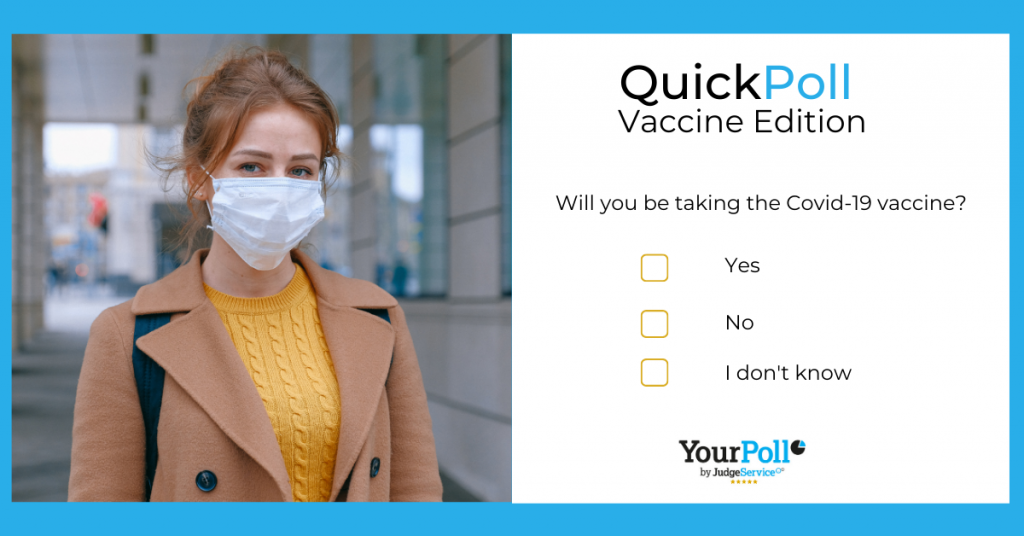 "I can't wait" – Over half of voters say "yes" to taking the new COVID-19 vaccine
The results from our first QuickPoll are in, and we asked you "Will you be taking the Covid-19 vaccine?".
From a randomized UK sample, YourPoll can reveal that 67% of those people said that they would be taking the new Covid-19 vaccine now that it has become available in the United Kingdom.

As of the 8th of December 2020, the first people were vaccinated using the Pfizer vaccine.
While this is exciting news, it seems that there is still a proportion of the population which aren't entirely sold on the idea.
26% of our QuickPoll voters were against the idea of being given the new vaccine.
Within the first 48 hours of our QuickPoll going live, the results were hovering around a 50/50 split between yes and no, but the results soon began to swing towards the vaccination.
We think that this is because people who feel strongly against certain subjects are quicker to voice their opinion.
It was also very apparent from the comments section on social media that "No" voters were a lot more vocal, to begin with.
However, as the national media began to report on the vaccinations and fill our news feeds and the radio waves with positivity surrounding the vaccine (positive news seems hard to come by these days), the votes for "Yes" started to dominate the poll.
And although comments such as: "It's a scamdemic" and "It's too early, I am not being a guinea pig", were causing some tension on social media, the other side soon began to explain why they thought the vaccine was a huge relief:
"We can eventually start to get our lives back, a great thing" and "No problem here, I don't believe in superstitious nonsense" – said commenters on Facebook.

Despite 15% out of people who voted "No", saying that the reason they did not want the vaccine was because they thought Covid was a hoax, the majority were more reasonable with their answers and said that they believed that the vaccine had not been tested enough to be safe.
This opinion seemed to resonate into the comments sections with a range of similar thoughts claiming that they wouldn't take the vaccine until they knew more about it.

YourPoll has found the results of this QuickPoll to be insightful. Taking part in micro-surveys such as QuickPoll is a great way to feel connected to the common consensus. When the Brexit vote was announced, many people were completely shocked by the results because they'd only heard what people around them thought.
Our randomized samples generate unbiased results which reflect the real thoughts of the public.
Are you interested in being paid for answering our QuickPolls? They take less than 2 minutes. Click here to sign up to be a YourPoll judge and we will pay you for your opinion. Get paid more for our longer interest surveys by YourPoll, for registering we will give you £2.50!
Want to partner with YourPoll to find out some real, verified and quantifiable data for your business? Email us at contactus@yourpoll.co.uk or ring us on 01423 649031